Beschrijving
Training Eindredactie
Een eindredacteur is onmisbaar. Zelfs de beste schrijvers hebben er één nodig. Om teksten met een scherpe blik toegankelijk, foutloos en aantrekkelijk te maken. Er voor te zorgen dat een tekst loopt en klopt.
Je zult het met ons eens zijn: eindredactie gaat verder dan d's en t's. Tekstinzicht, -opbouw, een goede kop, een pakkend intro, een prikkelende streamer, gedoseerde citaten, nagetrokken feiten. Het hoort er allemaal bij. Soms is een simpele ingreep voldoende, maar dat kan ook verraderlijk zijn!
Een goede eindredacteur is een redactionele duizendpoot die in staat is kopij optimaal te redigeren voor het medium waarvoor de tekst bestemd is. En niet te vergeten voor de doelgroep.
Veilig leren
Deze training wordt social distance proof aangeboden zodat we iedereen een veilige leeromgeving kunnen garanderen. Lees meer over ons protocol.
Wat je kunt na de training
Eindredactie
Spelling checken op eindredacteurniveau.
Passende koppen en streamers schrijven.
Een goed intro bedenken.
Teksthuisstijl bewaren.
De lengte en toon bepalen.
Tekst voor de doelgroep redigeren.
Bepalen tot hoe ver eindredactie gaat. Waar ligt de grens?
Wat je van de training Eindredactie kunt verwachten
Met de training Eindredactie ben je in twee dagen (weer) helemaal up-to-date. Je leert opnieuw lezen, met een frisse, kritische blik.
Voor wie is de training bedoeld?
Eindredacteuren, communicatieprofessionals, (web)redacteuren, journalisten, bloggers, columnisten en tekstschrijvers die teksten kritischer willen beoordelen.
Voordelig leren bij De Redactie
Schrijf je je in voor meerdere trainingen, dan leer je nog voordeliger! Wanneer je je aanmeldt voor twee trainingen, of je schrijft je tegelijk in met een vriend of collega, dan ontvang je 5% korting op het totaalbedrag. Schrijf je jezelf of anderen in voor drie of meer trainingen dan levert dat in totaal 8% voordeel op. De korting wordt automatisch toegepast in het winkelmandje op het moment dat je meer trainingen toevoegt. Zo stel je voordelig je eigen leertraject samen.
Extra voordeel voor ZZP-ers
Ben je zelfstandige? Dan krijg je bij De Redactie extra voordeel! ZZP-ers krijgen altijd 5% extra korting op ons hele trainingsaanbod met reductiecode ZZPDEREDACTIE.
Wat je vooraf moet weten
Neem je laptop mee naar de training.
Er is een maximum van 10 deelnemers.
Wist je dat de kosten voor deze training in sommige gevallen fiscaal aftrekbaar zijn?
Je ontvangt een certificaat van deelname.
Je ontvangt bij de training het boekje Teksten redigeren van Wim Daniëls.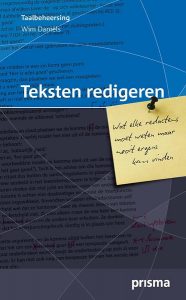 Incompany training Eindredactie
Deze cursus is ook als incompany training te boeken. Een incompany training is maatwerk waar en wanneer jij wilt.