Beschrijving
Training Podcast maken
Podcasts zijn de afgelopen jaren enorm populair geworden. Audio wordt steeds meer gezien als een mooie (en vernieuwende) manier om verhalen te vertellen. Andy Clark en Richard den Haring maken je tijdens deze training Podcast maken wegwijs in het medium.
De voordelen van geluid:
Audio zorgt voor verbeelding en verwondering bij de luisteraar.
Door het gebruik van oordopjes of speaker, sluit de luisteraar zichzelf af en heeft zo een intense en intiemere beleving van het verhaal.
Een goede audiocompositie biedt de luisteraar op een onderhoudende manier een verdieping rond een onderwerp.
Veilig leren
Deze training wordt social distance proof aangeboden zodat we iedereen een veilige leeromgeving kunnen garanderen. Lees meer over ons protocol.
Wat kun je na de training
Podcast
Je kent de kracht (en de beperkingen) van het medium podcast. Aan het einde van de training heb je samen met de andere deelnemers een podcast gemaakt van 10 minuten. Je kunt een podcast opnemen, monteren, publiceren en verspreiden. En niet onbelangrijk: je hebt geoefend met het vertellen van een aantrekkelijk verhaal voor audio.
Wat je van de training Podcast maken kunt verwachten
Tijdens de training benoemen we aan de hand van geluidsfragmenten de belangrijkste do's en don'ts van het maken van audioverhalen. We luisteren en ontleden diverse verhaallijnen en composities. Je ervaart wat een stem of interview kan toevoegen aan een verhaal. Bovendien leer je hoe je de luisteraar kan meenemen.
In het technische gedeelte van de training krijg je uitleg over het montageprogramma Audacity, leer je hoe je voice-overs kunt opnemen, welke microfoons goed werken en hoe je muziek kunt gebruiken als ondersteuning van je verhaal.
De deelnemers interviewen elkaar tijdens de training en gebruiken de input van deze gesprekken als basis voor hun podcast. Hoe begin je het verhaal? Wat laat je horen van het gesprek en wanneer gebruik je een voice-over? Hoe bouw je spanning op? Hoe rond je het verhaal af?
Voor wie is de training bedoeld?
Voor iedereen die wil ervaren hoe je zelfstandig audio kunt inzetten om een verhaal te vertellen aan je doelgroep. Deze training is met name interessant voor deelnemers die het gehele maakproces willen beheersen.
Voordelig leren bij De Redactie
Schrijf je je in voor meerdere trainingen, dan leer je nog voordeliger! Wanneer je je aanmeldt voor twee trainingen, of je schrijft je tegelijk in met een vriend of collega, dan ontvang je 5% korting op het totaalbedrag. Schrijf je jezelf of anderen in voor drie of meer trainingen dan levert dat in totaal 8% voordeel op. De korting wordt automatisch toegepast in het winkelmandje op het moment dat je meer trainingen toevoegt. Zo stel je voordelig je eigen leertraject samen.
Extra voordeel voor ZZP-ers
Ben je zelfstandige? Dan krijg je bij De Redactie extra voordeel! ZZP-ers krijgen altijd 5% extra korting op ons hele trainingsaanbod met reductiecode ZZPDEREDACTIE.
Wat je vooraf moet weten
Neem je laptop en je telefoon met koptelefoon of oortjes mee naar de training. Voor de overige apparatuur wordt gezorgd.
Er is een maximum van 10 deelnemers. Bij minder dan 8 deelnemers werken wij met één van de trainers.
Wist je dat de kosten voor deze training in sommige gevallen fiscaal aftrekbaar zijn?
Je ontvangt een certificaat van deelname.
De prijs van de training is inclusief het boek De kleine Podcasten voor Dummies, geschreven door Richard den Haring.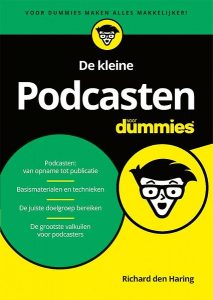 Incompany training Podcast maken
Deze cursus is ook als incompany training te boeken. Een incompany training is maatwerk waar en wanneer jij wilt.